Space Science Events
The New Mexico Museum of Natural History & Science has a number of Space Science themed events throughout the year, from Starry Nights to Solar Sundays and more.
---
Fractal Fridays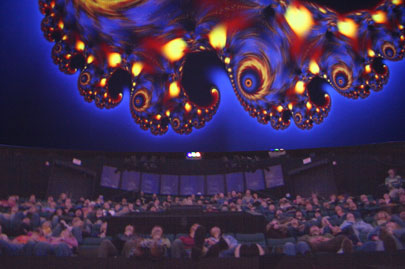 The First Friday of every month
First Friday Fractals is the spectacular, award-winning fulldome planetarium show that takes viewers on a tour of the fractals in nature and zooms through infinitely complex mathematical fractals. Featuring original music, the show is both educational and highly entertaining, and suitable for audiences 3 and up.
---
Solar Sundays
September 21 & November 16, 2014
10:00AM - 2:00PM
The museum's observatory offers safe views of the sun Tuesday through Sunday mornings, but this special Solar Sunday event is an opportunity to study our star in greater detail, and have a little more fun too! In addition to viewing the sun in several ways through a variety of specially-filtered telescopes, fun family activities will demonstrate the power of the Sun's light, heat, and radiation. Kids can color their own sun, make solar-powered jewelry, and learn how to protect their eyes in the daytime. Learn about the tiny rocks that orbit the sun from the UNM Institute of Meteoritics. The ABC Library System will sign visitors up for library cards and the summer reading program. Everything is included with museum or planetarium admission!
---
Ten Years on Mars
This January the Spirit and Opportunity Rovers celebrated their tenth year on Mars, and the New Mexico Museum of Natural History has an exhibit to commemorate the occasion! Our own Dr. Larry Crumpler is a Principle Investigator for the Opportunity Rover.
Exhibit - Tenth Anniversary of the Mars Exploration Rover Mission: Mars Photographic Landscape Art
January 23 - August 3, 2014, free with museum admission.