Space Science Events
The New Mexico Museum of Natural History & Science has a number of Space Science themed events throughout the year, from Starry Nights to Solar Sundays and more.
---

September 6 | 8:00 – 10:00 p.m. | Free
After the general meeting of The Albuquerque Astronomical Society, club members and museum staff will study the moon in the observatory, weather permitting.
For more information, check here.
---
October 2014: A month of Eclipses!

Total Lunar Eclipse - October 8, 2014
October 8 | 3:30 – 5:30 a.m. | Adults $4; Seniors and Members $3; Children $2 | Event will be canceled if the sky is cloudy

It will be worth getting up early on October 8 to see a total lunar eclipse! Doors will open at 3:30 a.m., shortly after the partial phase of the eclipse begins. The total eclipse will be visible for about an hour starting at 4:30 a.m. Track the Earth's shadow across the moon and view other objects in the early morning sky through telescopes.
For official event listing, check here.
Partial Solar Eclipse - October 23, 2014
October 23 | 3:30 – 5:30 p.m. | Included in Museum Admission

Safely view the only partial eclipse of the sun visible from North America for the next three years. During the deepest part of the eclipse around 4:40 p.m., approximately 36% of the sun will be blocked by the moon's shadow. Specially filtered telescopes will be available on the observatory deck, weather permitting.
For official event listing, check here.
---
Fractal Fridays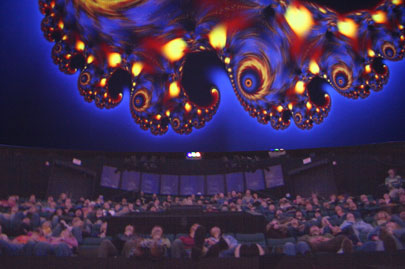 The First Friday of every month
First Friday Fractals is the spectacular, award-winning fulldome planetarium show that takes viewers on a tour of the fractals in nature and zooms through infinitely complex mathematical fractals. Featuring original music, the show is both educational and highly entertaining, and suitable for audiences 3 and up.
---
Solar Sundays
September 21 & November 16, 2014 | 10:00AM - 2:00PM

In addition to viewing the sun in several ways through a variety of specially-filtered telescopes provided by the Albuquerque Astronomical Society, fun family activities will demonstrate the power of the Sun's light, heat, and radiation. Kids can color their own sun, make solar-powered jewelry, and learn how to protect their eyes in the daytime. Learn about the tiny rocks that orbit the sun from the UNM Institute of Meteoritics. The ABC Library System will sign visitors up for their reading programs.
---
Orion Shuttle Launch Party!
December 4, 2014 | 5:00 AM - 12:00 PM
The new Orion spacecraft is NASA's next generation vehicle to carry humans beyond Earth's orbit. See the first test mission of this launch system, from its breathtaking blastoff at approximately 6 a.m. to the capsule's splashdown several hours later. Learn about the development of this rocket and enjoy fun activities related to manned space exploration.
For more information, click here.