Space Science Events
The New Mexico Museum of Natural History & Science has a number of Space Science themed events throughout the year, from Starry Nights to Solar Sundays and more.
---
LASER SHOWS ARE BACK for a HOLIDAY LASER SPECTACULAR.
$6 Adults | $5 Members & Seniors | $4 Children (Children's ticket applies only to 3 p.m. shows)
Light up the holidays with special, limited-time laser concerts between Christmas and New Years! Two laser systems will fill the planetarium dome with choreographed images, allowing music and light to envelope the audience. Over a million laser-generated hues and colors poetically express each timeless track. In addition to the schedule below, Laser Pink Floyd: Dark Side of the Moon will be presented hourly during the Moonlight Masquerade on New Year's Eve.
6 & 8 p.m. – Laser Pink Floyd: Best of Echoes
7 & 9 p.m. – Laser Pink Floyd: Dark Side of the Moon
6 p.m. – Laser Beatles
7 p.m. – Laser Pink Floyd: Dark Side of the Moon
8 p.m. – Laser Led Zeppelin
3 p.m. – Winter Holiday Celebration
---
Fractal Fridays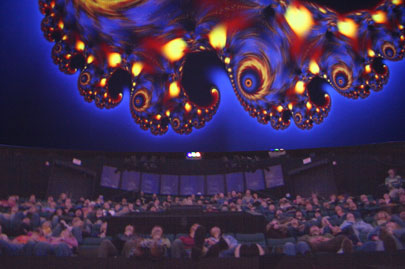 The First Friday of every month
First Friday Fractals is the spectacular, award-winning fulldome planetarium show that takes viewers on a tour of the fractals in nature and zooms through infinitely complex mathematical fractals. Featuring original music, the show is both educational and highly entertaining, and suitable for audiences 3 and up.
---
Lunar Mondays
Our observatory will be open for free one Monday a month for lunar observing!
View the moon close up and learn about its features, space exploration, and more!
The next openings will be:
January 26, 2015 7-8 p.m.
February 23, 2015 7-8 p.m.
March 30, 2015 8:30-9:30 p.m.